Features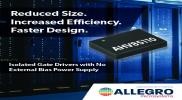 Solving the Challenges of Increasing Power Density By Reducing Number of Power Rails - March 2023
By Andy Wang, Business Line Director, High-Voltage Power Business Unit Allegro MicroSystems
More details...
AC/DC power factor correction module offers up to 1,512W
A full brick package developed by TDK-Lambda, the PF1500B-360, is for high voltage distributed power architectures
More details...
Power Electronics Europe News
Synchronous step-down DC/DC controller works with external power train devices
The LTC3774 works in conjunction with external power train devices such as Power Blocks and DrMOS, as well as discrete N-channel MOSFETs and associated gate drivers. It operates over an input voltage range of 4.5 to 38V and produces a fixed output voltage from 0.6 to 3.5V. Up to 12 phases can be paralleled and clocked out-of-phase to minimise I/O filtering for very high current requirements up to 360A. The controller can be used in high current power distribution, redundant (n 1) supplies, industrial systems, DSP and ASIC power.
Power inductor DCRs down to 0.2mΩ can be used to maximise converter efficiency (up to 95%), increase power density and reduce the output ripple voltage in high current applications. This DC resistance sensing technique also reduces the switching jitter normally associated with low DC resistance applications. Temperature compensation maintains a constant and accurate current limit threshold over the temperature range -40 to 125°C.


Selectable fixed operating frequency is from 200kHz to 1.2MHz, or it can be synchronised to an external clock. The dual differential amplifiers provide true remote output voltage sensing of both output voltages. Current limit can be configured for very low sense voltages from 10 to 30mV to minimise power loss).
View PDF