Features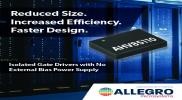 Solving the Challenges of Increasing Power Density By Reducing Number of Power Rails - March 2023
By Andy Wang, Business Line Director, High-Voltage Power Business Unit Allegro MicroSystems
More details...
AC/DC power factor correction module offers up to 1,512W
A full brick package developed by TDK-Lambda, the PF1500B-360, is for high voltage distributed power architectures
More details...
Power Electronics Europe News
EVs and storage boost advanced battery market
The expansion is atrributed to growth in consumer electronics and the emergence of new markets for batteries in electric vehicles (EVs) and stationary energy storage systems. Navigant Research reports in Advanced Battery Tracker 4Q13 that global manufacturing capacity for lithium ion (Li-ion) batteries has grown rapidly due to the government subsidies increasing EV supplies. Sales of advanced batteries totaled $10.8billion in 2012.
Lead-acid batteries still dominate the automotive starter and UPS (uninterruptible power supplies) markets, new markets like automotive traction, stationary energy storage, consumer electronics, cordless power tools, medical systems, and defence systems are opting for advanced batteries, which offer superior performance in the areas of cycle life and energy density, explains Sam Jaffe, senior research analyst, Navigant Research. Consumer electronics account for more than 75% of the market for advanced batteries, but Li-ion batteries for EVs are expected to grow strongly in coming years.
There are over a dozen significant manufacturers, none of which holds more than a 13% market share, according to the report. The top two suppliers, Samsung SDI and LG Chem, are based in South Korea.

View PDF