Features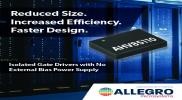 Solving the Challenges of Increasing Power Density By Reducing Number of Power Rails - March 2023
By Andy Wang, Business Line Director, High-Voltage Power Business Unit Allegro MicroSystems
More details...
AC/DC power factor correction module offers up to 1,512W
A full brick package developed by TDK-Lambda, the PF1500B-360, is for high voltage distributed power architectures
More details...
Power Electronics Europe News
Three-phase current transducer has installation options
The compact, DIN-rail or panel mountable RCTrms 3-ph transducer connects to three Rogowski coils to capture measurements from three current phases simultaneously. This reduces the cost/channel significantly, says the company.
With 18 current ratings options from 100 to 50,000A, and a choice of 300, 500, 700mm or custom coil lengths, the transducer, can be used connected to a variety of SCADA systems, PLCs, data loggers, protection equipment or motor controllers. The clip-around coil allows it to be positioned to suit and without needing to be centralised around the conductor. An isolated BNC-BNC cable-split option is available, for example, for threading through existing conduit.
The transducer operates from a 12-24V supply, and provides a galvanically isolated measurement. Each unit is supplied with a traceable calibration certificate.
Non-magnetic materials ensure excellent linearity and prevents damage from over currents. Typical accuracy is better than 1% of reading from 10 to 100% full scale. Safety features include 2kVdc power-supply isolation and 2kVpeak coil rating. The transducers are CE marked and compliant with EMC EN 61326-1 2006 and IEC61010-1:2001.
View PDF