Features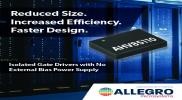 Solving the Challenges of Increasing Power Density By Reducing Number of Power Rails - March 2023
By Andy Wang, Business Line Director, High-Voltage Power Business Unit Allegro MicroSystems
More details...
AC/DC power factor correction module offers up to 1,512W
A full brick package developed by TDK-Lambda, the PF1500B-360, is for high voltage distributed power architectures
More details...
Power Electronics Europe News
ICW announces sales agreement with ICEL
Both both companies will be able to offer each another's products in their respective home markets.
The Milan-based, film capacitor manufacturer manufactures a range of box radial polypropylene and polyester capacitors for snubber, pulse power, DC link and AC filtering applications (illustrated).
David Thomson, managing director of ICW, said: "The product lines of ICW and ICEL complement one another perfectly, allowing ICW to offer a complete film capacitor solution in the UK market.
Both companies offer customers technical and development support.
View PDF