Features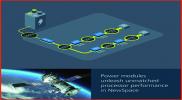 NewSpace demands low voltage, high current power for performance and longevity - Nov 2022
Matt Renola, Senior Director, Global Business Development – Aerospace & Defense
More details...
Power Electronics Europe News
Recom introduces cost-efficient SOIC-16 models to DC/DC range
The DC/DC converters feature 5V (4.5 to 5.5V) inputs and a semi-regulated 5V output rated at either 0.5W for the R05C05TE05S or 1W for the R05CTE05S. Line and load regulation figures are specified across the full temperature range, and there is no minimum load requirement, making both models suitable for light-load operation modes.
Both parts have a 3kV DC/ one minute (basic) insulation rating with greater than 8.0mm input/output creepage and clearance. They operate over a wide temperature range of -40°C to 125°C with derating. Isolation capacitance is just 7pF. Protection features include short circuit, over-current, over-temperature and input under-voltage, for reliable, robust operation. EMI levels are also particularly low compared with more expensive competing products, says the company.
The SOIC-16 package is just 10.35 x 7.5mm footprint and 2.5mm profile, for space-constrained designs. Both DC/DC converters are pin-compatible, allowing future upgrades from 0.5W to 1W. The DC/DCs are also partially pin-compatible with the higher specification Recom R05CT05S, which includes features such as remote on/off and reinforced isolation.
Target applications include isolated COM port power supplies, gate drive power, current sensing/smart metering, medical devices, industrial PLC (I/O), and sensors for the IoT/IIoT.
According to the company, the DC/DCs converters are a low-cost alternative when all the features of its higher spec SOIC-16 parts are not needed. Matthew Dauterive, DC/DC product manager at Recom, adds that they are manufactured with the same automated process with advanced transformer fabrication technology for reliability in critical applications.
Samples are available now directly from the company or authorised distributors.
View PDF