Features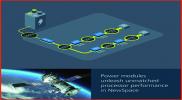 NewSpace demands low voltage, high current power for performance and longevity - Nov 2022
Matt Renola, Senior Director, Global Business Development – Aerospace & Defense
More details...
Power Electronics Europe News
Automotive-grade through-hole inductors are shielded and compact
Designed to replace larger, more expensive options, the IHTH high current, high temperature through-hole inductors offer continuous high temperature operation 155°C.
The Vishay Dale IHTH-1500MZ-5A (0.47 to 4.7µH) delivers high saturation current of 156A and very low typical DCR down to 0.19mΩ. The second inductor, the IHTH-1500TZ-5A (6.8 µH to 100 µH) offers saturation current of 106A and typical DCR down to 1.1mΩ.
Based on IHLP® technology, the shielded, composite construction of the devices results in a compact size of 38.1 x 38.1 x 19.81mm. This allows either of the inductors to replace much larger and more expensive competing device in high current filters for 12 V / 48 V hybrid electric (HEV) and mild hybrid electric (MHEV) vehicle output converters, explains the company. Typical applications are off-road diesel injection drivers, catalytic pulse width modulation (PWM) heaters and electrical motors.
The inductors handle high transient current spikes without hard saturation and the housing is engineered for temperature conductivity. The inductors are RoHS-compliant and halogen-free and provide high resistance to thermal shock, moisture, and mechanical shock.
Samples and production quantities of the IHTH-1500MZ-5A and IHTH-1500TZ-5A are available now, with lead times of eight to 10 weeks.
View PDF