Features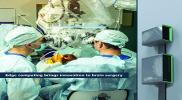 Edge Computing Leverages Modular Power in Scalable Micro Data Centres - May 2022
Edge computing is essential to realizing the full potential of artificial intelligence (AI), machine learning and internet of things (IoT). These technologies are being infused into every corner of...
More details...
Power Electronics Europe News
15Msample/s DAQ module saves board space
The ADAQ23875 µModule is designed for digitising fast transient signals in power analysis applications, and enabling low latency digital control loop in hardware in the loop (HiL) applications or source measurement unit applications. It incorporates critical signal conditioning circuitry associated with scaling the signal from the sensor. Its 9.0 x 9.0mm, 0.8mm pitch, 100-ball BGA package is claimed to result in a 4x footprint reduction compared with a discrete equivalent solution, says the company.
System-in-package (SIP) technology combines multiple common signal processing and conditioning blocks in a single device, to reduce component count for the final product. Integrated blocks include a low noise, fully differential ADC driver, a stable reference buffer, and a high speed, 16-bit, 15MSample/s successive approximation register (SAR) ADC.
Analog Devices' iPassives technology incorporates passive components with superior matching and drift characteristics to minimise temperature dependent error sources. The fast settling of the ADC driver stage, with fully differential or single-ended to differential input and no latency of the SAR ADC, is designed for high channel count multiplexed signal chain architectures and control loop applications.
The µModule operates from a single 5V supply and has a serial low voltage differential signaling (LVDS) digital interface, with one- or two-lane output modes. This allows the user to optimise the interface rate for each application. It has a low power, dynamic power scaling, power-down mode, consuming 143mW (typical) at 15Msample/s.
Operating range is -40 to 85°C.
According to the company, by incorporating more of the signal chain in a package, the ADAQ23875 enables high repeatability of system level performance over the lifetime of the system in manufacturing thus reducing the OEM's total cost of ownership.
View PDF