Features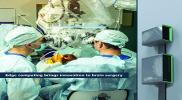 Edge Computing Leverages Modular Power in Scalable Micro Data Centres - May 2022
Edge computing is essential to realizing the full potential of artificial intelligence (AI), machine learning and internet of things (IoT). These technologies are being infused into every corner of...
More details...
Power Electronics Europe News
Recom adds to DC/DC converter range with R3 series in SIP8 package
The RS3E DC/DC converters, in an industry-standard SIP8 format and pin-out, are rated at 3W with no derating to 70°C. They are designed with 2:1 input ranges of 4.5 to 9.0V, 9 to 18V, 18 to 36V and 36 to 72V.

Fully regulated outputs available are 3.3V, 5.0V, 9.0V, 12V, 15V and 24V and isolation is 3kV (one minute).

The DC/DC converters are certified to IEC/UL/CSA 62368-1 (safety) up to 5000m altitude and meet EN 55032/FCC class B and EN 55035 EMI standards.
The devices have short circuit protection, high mean time between failure (MTBF) of 1.8M hours and a control input to place the converters in a low power shutdown mode.
The low cost, high power density 3W DC/DC converter will find applications in demanding environments such as industrial and e-mobility, where the industry standard SIP8 format will be useful for space constrained applications.
Recom manufactures a full range of standard and customised DC/DC and AC/DC converters in every power class from sub-1W to tens of kW, switching regulators and LED drivers in a selection of formats.
View PDF