Features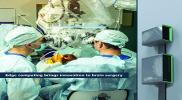 Edge Computing Leverages Modular Power in Scalable Micro Data Centres - May 2022
Edge computing is essential to realizing the full potential of artificial intelligence (AI), machine learning and internet of things (IoT). These technologies are being infused into every corner of...
More details...
Power Electronics Europe News
Flex Power Modules expands PKU-D analogue DC/DC converter series
The 16th brick isolated analogue DC/DC converter is claimed to deliver electrical and thermal performance and a price/performance ratio that is particularly attractive for telecomms.
Efficiency is typically 94.6% at Vin, 48V at full load. The DC/DC converter has an input voltage range of 36 to 75V, which meets the requirements of (European Telecom Standard) ETS 300 132-2 for normal input voltage range in -48 and -60V DC systems.

The output of up to 8.3A at 12V delivers 100W and there is output voltage trimming of up to 10%. Input to output isolation is 2,250V. Operating temperature range is -40 to 125°C.

An optional baseplate is available for conduction cooling. This configuration maintains performance with no derating at 100°C, confirms the company.

The PKU4913D is supplied in an industry standard, low profile, 16th brick format, measuring 33.02 x 22.86 x 11.30mm (1.3 x 0.9 x 0.44 inches). Protection includes over-voltage, over-temperature and short-circuit mechanisms. Mean time between failures is 13.88 million hours.

The PKU4913D meets IEC/EN/UL 62368-1 safety standards.
View PDF