Features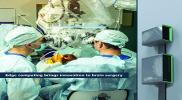 Edge Computing Leverages Modular Power in Scalable Micro Data Centres - May 2022
Edge computing is essential to realizing the full potential of artificial intelligence (AI), machine learning and internet of things (IoT). These technologies are being infused into every corner of...
More details...
Power Electronics Europe News
Carrier-grade DC-input power supply is in the CRPS form factor
To provide high power in a small form factor, the Artesyn CSU2000ADC-3 is claimed to be the industry's only carrier-grade DC-input power supply in the Common Redundant Power Supply (CRPS) specification form factor.
It joins the company's CSU series of AC/DC power conversion products and broadens Advanced Energy's portfolio to meet data centre power supply needs for telecommunications, data communications, cloud infrastructure and enterprise IT customers.
The DC/DC power supply has a 48V input, 12V output at 2,000W and is claimed to be the only 2kW carrier-grade power supply available today. It provides scalability and a path for power capacity flexibility while satisfying carrier requirements for input cabling, continues the company. The industry standard CRPS form factor can be designed into customers' systems. Designed to serve a wide range of applications in traditional AC data centres, DC telco central offices, as well as increasingly-common DC data centres, the CSU2000ADC-3 delivers universal usage across these three environments, which reduces customers' development time, cost and risk, says the company.
The CSU2000ADC-3 is designed to meet the exponential growth in data computing, storage and networking, fuelled by accelerated adoption of cloud computing and Internet usage, as well as growing investments in hyperscale data centre infrastructure; all of which place growing demands on data centres for increased compute density which in turn requires a higher level of power density.
View PDF