Features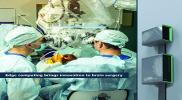 Edge Computing Leverages Modular Power in Scalable Micro Data Centres - May 2022
Edge computing is essential to realizing the full potential of artificial intelligence (AI), machine learning and internet of things (IoT). These technologies are being infused into every corner of...
More details...
Power Electronics Europe News
65V eGaN FET enables higher resolution for lidar systems
The EPC2219 has been qualified to AEC Q101 for lidar systems in the automotive industry and other harsh environments. It is suitable for use in lidar and radar systems for autonomous vehicles, 48 to 12V DC/DC converters for mild hybrid power, high fidelity infotainment systems, and high-intensity headlamps for trucks.
This EPC2219 has completed rigorous automotive AEC Q101 qualification testing including humidity testing with bias (H3TRB), high temperature reverse bias (HTRB), high temperature gate bias (HTGB), temperature cycling (TC), as well as several other tests.
The GaN transistor will be followed with several more discrete transistors and ICs designed for the harsh automotive environment. The 65V, 3.3Ω, eGaN FET has integrated reverse gate clamp diode and a small footprint of 0.81mm2 making it suitable for GaN FETs in radar and ultrasonic sensors, satellite reaction wheels, high-frequency DC/DC conversion, wireless power, and class-D audio.
The eGaN FETs undergo rigorous environmental and bias-stress testing for AEC Q100 compliance. EPC's wafer level chip-scale (WLCS) packaging passes all the same testing standards created for conventional packaged parts, demonstrating that the superior performance of chip-scale packaging does not compromise ruggedness or reliability.
The AEC Q101 eGaN devices are produced in facilities certified to the Automotive Quality Management System Standard IATF 16949.
EPC's CEO and co-founder Alex Lidow explains: "This new automotive product is the latest addition to a growing family of EPC transistors and ICs designed to enable autonomous driving and improve fuel economy and safety."
The EPC2219 eGaN FET is available for immediate delivery from Digi-Key.
View PDF