Features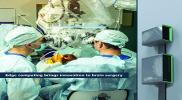 Edge Computing Leverages Modular Power in Scalable Micro Data Centres - May 2022
Edge computing is essential to realizing the full potential of artificial intelligence (AI), machine learning and internet of things (IoT). These technologies are being infused into every corner of...
More details...
Power Electronics Europe News
DC-UPS takes intelligent approach to industrial power
The DIN rail mount uninterruptible power supplies have multiple features for power management in industrial applications. They can be used in a wide range of demanding applications, including process control, machinery, security or communications.
Designed to maintain available power for uninterrupted system operation, the CBI series of DC-UPS system modules combines DIN rail power and battery management in a single unit.
They ensure full power is always available to the load, with multi-stage charging which adapts to the battery's status, so even when close to 0V, the battery can be recharged for a full recovery.
Ensuring availability means that power requirements for the system can be minimised, reducing component count and cost.
The DC-UPS modules intelligently manage the available power between load and battery to protect against outages and deliver uninterrupted operation. Instead of an external battery to maintain power, the modules charge and maintain batteries for the highest level of availability.
A power boost mode allows the load current to be two times the rated output current for continuous operation and three times the rated current for four seconds. This degree of flexibility is particularly useful when powering highly inductive loads like motors and machinery.
For machine and process control applications, which do not run 24 hours a day, the time buffering feature allows the length of time the systems will run after mains failure to be selected.
An over-ride system restarts the battery without mains power. This restart is available via RTCONN cable connections or it can be accessed via a pushbutton on the front panel.
Automatic multi-stage charging and real time diagnostics allow fast recharge and recovery of deeply discharged batteries.
The ADELBus communication protocol is based on MODbus-RTU or CANbus. It connects, monitors and controls system parameters locally or via the internet using application tools and cloud-based applications.
The modules in the CBI series can charge any battery chemistry (open lead acid, sealed lead acid, lead gel, Ni-Cd and Li-Ion) using factory pre-set charging curves. Modules can be customised to meet specific user and application requirements.
An externally connected sensor automatically adjusts the system charge voltage according to the ambient temperature, to maximise battery life.
By constantly monitoring the batteries to determine its condition in real time, diagnostic battery testing guarantees battery reliability, says Relec. Tests include continuously check internal impedance, reverse polarity connection, short circuit, open circuit, disconnected or poor battery connection.
Adel Systems' DC-UPS modules range from 90 to 305Vac input and 36 to 500 Watts output.
View PDF