Features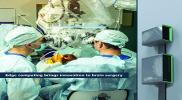 Edge Computing Leverages Modular Power in Scalable Micro Data Centres - May 2022
Edge computing is essential to realizing the full potential of artificial intelligence (AI), machine learning and internet of things (IoT). These technologies are being infused into every corner of...
More details...
Power Electronics Europe News
12V MOSFET SiC module packages enable scalable power systems
The SiC power modules are suitable for EV charging and solar markets, including EV fast charging, renewable energy, energy storage and industrial power applications. They are based on 1200V Wolfspeed MOSFET technology, and allow designers to significantly increase efficiency and performance with smaller, more scalable power systems, explains the company.
SiC-based power enables smaller, lighter and more power electrical systems, compared to silicon, in a range of industrial applications. The SiC modules' deliver the highest rated current topologies commercially available, says Cree. The power density and standard form factor combine to simplify designs to accelerate the production and rollout of next-generation technology for growing industrial markets, including off-board charging and solar energy.
According to the company, the modules bridge the gap between single die discrete components and high-ampacity modules. Half-bridge and six-pack configurations are available, with a variety of on-resistance options. The compact footprints reduce system size, complexity and costs, adds the company.
"Maximising power density while minimising design complexity is essential for engineers working in the mid-power range," said Jay Cameron, senior vice president and general manager, Wolfspeed Power. He added that the new modules simplify layouts to help accelerate production of EV fast charging and solar infrastructures.
View PDF