Features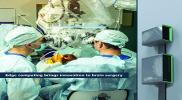 Edge Computing Leverages Modular Power in Scalable Micro Data Centres - May 2022
Edge computing is essential to realizing the full potential of artificial intelligence (AI), machine learning and internet of things (IoT). These technologies are being infused into every corner of...
More details...
Power Electronics Europe News
Infineon adds 650V to CoolMOS family
For switch mode power supplies (SMPS) in industrial applications demands high efficiency and power density as well as increased bus voltages, says Infineon Technolgy, introducing the 650V CoolMOS CFD7. The MOSFET has been added to the CoolMOS CFD7 family to meet the demand for power devices with 650V breakdown voltage.


The MOSFETs are suitable for resonant topologies in soft-switching applications, for example telecomms, server, solar and off-board EV-charging.
The devices match LLC and zero-voltage-switching phase-shift full-bridge topologies, and in addition to the 650V breakdown voltage, have an integrated fast body diode, improved switching performance, they also have low reverse-recovery charge.
Switching losses, as well as RDS(on) dependency over-temperature, are significantly reduced, says the company, which, combined with improved gate charge (Q g) increases efficiency over the whole load range. In SMPS, they deliver improved full-load efficiency compared to competing devices, says the company and offer best-in-class RDS(on) to increase the power density level of SMPS at a competitive price.
The 650V CoolMOS CFD7 is available now in TO-220, TO-247, and TO-247 4-pin packages.
View PDF