Features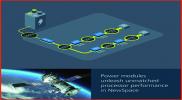 NewSpace demands low voltage, high current power for performance and longevity - Nov 2022
Matt Renola, Senior Director, Global Business Development – Aerospace & Defense
More details...
Power Electronics Europe News
TOLL package saves space in MOSFETs
The AOTL125A60 is the first Fast Switching aMOS5 TOLL MOSFET to be introduced. The 600V MOSFET is optimised for high-density, high power server power supplies, PV inverters, quick charge, adapter, PC power, industrial power, telecomms and hyperscale data centre applications.
It is supplied in the aMOS5 TOLL footprint is only 115mm², which is 23% smaller than that of D2PAK, claims AOS. The package is 2.3mm thick, which is almost 50% less than the height of a D2PAK device. The reduced package inductance and parasitics of the TOLL package enable power designs to reach the next level of switching efficiency and EMI performance, claims the company.
Current capability is up to 100A in a 125mΩ device, to support demanding server PFC and PV inverter applications, which require both high current rating and small form factor. The automated optical inspection (AOI) capability and enhanced solder contact area of the package are also claimed to improve the system and board level reliability of power supplies that need to serve long life cycles.
The aMOS5 high voltage TOLL package features Kelvin source connection, which improves switching performance by reducing switch-on loss through separate power and drive sources. The package is intended as a replacement for D2PAK and TO-220(F) packages and the elimination of paralleling devices and the 30% reduction in RDS(on) compared with previous devices, reduces the height of the package.
The fast switching 600V TOLL family is an important milestone, AOS believes, allowing the company to support broader and higher power applications, and extending the portfolio to low profile server power and compact PV inverter systems.
The company has announced later aMOS5 TOLL products which will provide a wider range of Rds(on) and which will cover applications from 200W to 3kW.
View PDF