Features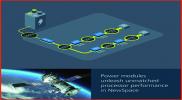 NewSpace demands low voltage, high current power for performance and longevity - Nov 2022
Matt Renola, Senior Director, Global Business Development – Aerospace & Defense
More details...
Power Electronics Europe News
Medical power supply has conduction cooling as standard
The VCCS300M measures just 100 x 50 x 41mm (4.0 x 2.0 x 1.61inch) and has efficiency levels up to 95%.
The compact, conduction-cooled, single output power supply is an efficient and reliable (1.1 FPMH) power supply. Power densities exceed 23W/in³ and the power supply weighs just 310g.
The VCCS300M delivers 300W of silent, fanless power and can be cooled by convection or forced air.
Versions of 300W, 600W, 900W and above can be achieved by using the on-board droop current share function, which allows end users to scale up or down depending on their power requirements.
Applications include ventilators, respirators, endoscopes, lab equipment, dental systems and mobile medical applications.
Input voltage range is 85 to 264V AC (0.99 power factor) and output voltages are set initially at 12, 24 and 48V DC with in between voltages up to 58V DC available on request. No load power consumption is below 1W.
The VCCS300M power supplies are BF rated, feature Class I and II isolation and meet all appropriate medical equipment standards including IEC/UL60601-1 Edition 3.1 and IEC/UL60601-1-2 Edition 4 (EMC) for medical equipment.
Over-voltage and over-temperature, both with auto restart, over-current and short- circuit protection are integrated as standard.
The power supply is available from a global distribution network and is backed with a five year warranty.
View PDF