Features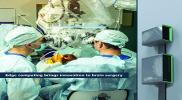 Edge Computing Leverages Modular Power in Scalable Micro Data Centres - May 2022
Edge computing is essential to realizing the full potential of artificial intelligence (AI), machine learning and internet of things (IoT). These technologies are being infused into every corner of...
More details...
Power Electronics Europe News
Two-in-one transient voltage suppressors use low capacitance technology
The AOZ8S204BL2 and ­AOZ8S205BL2 two-in-one transient voltage suppressors (TVS) are designed for high speed line protection for USB Type-C and HDMI applications such as notebooks, desktop PC, game console, and 4K and 8K TVs.
The AOZ8S204BL2 and AOZ8S205BL2 have a low capacitance of 0.15pF and 0.075pF, respectively for high speed line protection including, but not limited to, USB4.0, Thunderbolt 4.0, HDMI2.1 and avoiding the transmission error by minimising the capacitance effect. AOZ8S204BL2 and ­ AOZ8S205BL2 are two channels devices housed in a 0.63 x 0.33mm leadless surface mounted device, which is designed for the small footprint requirements of a USB Type-C connector, says AOS.
The low capacitance TVS provides pin-out for differential signal and space saving high speed interface application. It also reduces the part counts on the circuit board.
The company says that the low capacitance, two-channel devices provide a better figure of merit (FOM) on the clamping voltage times capacitance. In addition to low capacitance, it is also important to have a low clamping voltage and fast response during the ESD event to protect the ESD-sensitive chipset.
The AOZ8S204BL2-03, AOZ8S204BL2-05, AOZ8S205BL2-03, and AOZ8S205BL2-05 are immediately available in production quantities with a lead time of 20 weeks.
View PDF