Features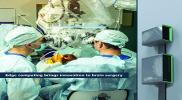 Edge Computing Leverages Modular Power in Scalable Micro Data Centres - May 2022
Edge computing is essential to realizing the full potential of artificial intelligence (AI), machine learning and internet of things (IoT). These technologies are being infused into every corner of...
More details...
Power Electronics Europe News
The fixed step-down MagI³C-FDSM regulator modules now cover all bus voltages from 12 to 48V. For applications with direct connection to bus voltages of 12, 24 or 48V, the FDSM module has a wide input voltage range up to 74.5V, to be robust against voltage transients on the 48V bus. The modules are implemented in an SIP-3 package and provide fixed output voltages of 3.3, 5.0 and 12V with an output current up to 0.5A.
The modules are fully integrated DC/DC voltage converters with fixed output voltage and consist of a regulator, inductor as well as input and output capacitors. The power modules are protected against short circuit and thermal overload. The module eliminates the need for external components in circuit design. They are supplies in a standard through hole technology housing.
Pre-compliance testing of the evaluation board has shown the conducted and radiated EMI is below limits established by relevant standards, reports the company.
All MagI³C-FDSM power module versions are available from stock. Free samples can be requested.
View PDF