Features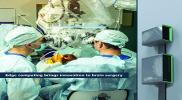 Edge Computing Leverages Modular Power in Scalable Micro Data Centres - May 2022
Edge computing is essential to realizing the full potential of artificial intelligence (AI), machine learning and internet of things (IoT). These technologies are being infused into every corner of...
More details...
Power Electronics Europe News
Rohm increases automotive PMDE package diodes offering
The PMDE package measures 2.5 x 1.3mm and improves heat dissipation performance by expanding the backside electrode and optimising the heat dissipation path. This achieves the same electrical characteristics as those of conventional packages in a smaller package size, explained the company.
The proprietary compact PMDE package features a land pattern equivalent to that of the conventional SOD-323 type. It achieves the same electrical characteristics (i.e. current, withstand voltage) as the standard SOD-123FL package which measures 3.5 x 1.6mm, reducing mounting area by approximately 42 per cent. Mechanical strength is around 1.4 times higher than that of the SOD-123FL, reducing the risk of solder cracking when stress is applied to the board.
The PMDE package offers the same electrical characteristics as the conventional SOD-123FL package in a smaller package size.
All automotive-compatible part numbers are qualified under the AEC-Q101 standard for automotive reliability.
The Schottky barrier diodes in the RBxx8 series deliver low VF together with high efficiency. There are 10 models in the PMDE package with breakdown voltages from 30 to 150V and which provide low IR (reverse current) and can operate stably even in high temperature environments.

There are six Schottky barrier diodes in PMDE packages in the RBR series as well as fast recovery diodes in the RFN series which provide high withstand voltage (up to 800V) equivalent to rectifier diodes along with excellent trr (reverse recovery time) for high frequency operation. The RFN series offers the same electrical characteristics as conventional products in a compact PMDE package.

Other models are the transient voltage suppressors in the VS series. These diodes absorb the sudden voltage (surge voltage) that flows during engine start up or breakdown, then steps down to a constant voltage. The VS series supports a wide range of standoff voltages (VRWM) from 5.0 to 130V.

The diodes are in mass production and available through online distributors Digi-key, Mouser and Farnell AG.
Visit Rohm Semiconductor at PCIM Hall 9 - 306
View PDF