Features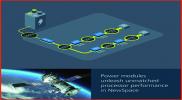 NewSpace demands low voltage, high current power for performance and longevity - Nov 2022
Matt Renola, Senior Director, Global Business Development – Aerospace & Defense
More details...
Power Electronics Europe News
Semiconductor fuses safeguard automotive systems
Intelligent power devices, or IPDs, protect electronic circuits from breakdown but unlike conventional fuses, protect without degrading or breaking down, making it possible to achieve maintenance-free engine control units (ECUs), transmission control units, hydraulic suspension control and anti-lock brake systems.
The BV2Hx045EFU-C are believed to be the industry's first high-side IPDs capable of providing standalone protection against over-current via an original over-current protection function. Conventional IPDs only protect against inrush current at start up, which means that microcontrollers and over-current detection ICs are needed to protect steady-state currents. There is still the possibility of an out-of-control situation due to compatibility issues with subsequent circuits connected to the IPD output. These high side switches can protect the system against both inrush and steady state over-current, and provide reliability with fewer parts, says the company. The over-current protection range can be adjusted with external components to enable broad compatibility.

Once an over-current condition of the steady state current is detected, the IPD output is controlled (on/off) by the microcontroller Enable signal. Depending on the capacitance value of the subsequent circuit connected to the IPD output, inrush current at start up can cause over-current protection to be repeatedly detected and reset, resulting in oscillation. The BV2Hx045EFU-C's proprietary protection function provides standalone protection from both inrush and steady state over-current. An error signal can be sent to the microcontroller when an abnormality (i.e. over-current) has been detected, providing functional safety for the entire system.

The devices also enables adjustment of the inrush protection time and abnormal current threshold of the steady state current by changing the external capacitor and resistor constants, ensuring support for a range of systems.
View PDF