Features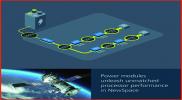 NewSpace demands low voltage, high current power for performance and longevity - Nov 2022
Matt Renola, Senior Director, Global Business Development – Aerospace & Defense
More details...
Power Electronics Europe News
Diodes delivers repeater IC that saves space and comply to USB 3.2
The two- and one-port linear ReDrivers, or repeater ICs, boost signal quality of high speed USB 3.2, 10Gbit/s interfaces for industrial, embedded and consumer markets. They five to 10Gbit/s two-port/one-port, linear ReDrivers are USB 3.2-compliant. They provide adjustable linear equalisation, output swing and flat gain to optimise performance over a physical media by reducing intersymbol interference. According to the company, they are the industry's smallest ReDrivers and save board space by using packages that are up to 64% smaller than those traditionally used. Target applications include laptops, tablet PCs, desktop PCs and gaming devices.
The devices regenerate signals to boost the signal quality of high-speed interfaces. Faster signal frequencies leave designers with less signal margin to design reliable, high-performance systems. Using technologies such as equalisation and pre-emphasis, a single ReDriver can adjust and correct for known channel losses at the transmitter and restore signal integrity at the receiver for reliable communications with low bit error rates (BER).
The PI3EQX1004E and P13EQX1002E are built using patented technology, which enables them to extend PCB trace lengths and minimising cost and power consumption. The company adds that linear ReDrivers can also deliver lower latency.
The PI3EQX1004E requires a supply voltage of 3.3V ±0.3V and is housed in a 34-contact UQFN (4.5 x 2.5mm) package. The PI3EQX1002E is offered in a 24-contact UQFN (2.5 x 2.5mm) package.
View PDF