Features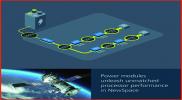 NewSpace demands low voltage, high current power for performance and longevity - Nov 2022
Matt Renola, Senior Director, Global Business Development – Aerospace & Defense
More details...
Power Electronics Europe News
Microprocessor-controller power supply targets industrial use
The 3,000W AC/DC enclosed power supply is designed with the company's digital microprocessor technology and includes active current sharing. This, says the company, makes it simple to parallel up to 10 units for extra power or redundancy. It has an active filter and uses a phase-shift, full-bridge topology to deliver an efficiency level of up to 93%. It complies with SEMI F47, which requires that semiconductor processing equipment tolerates voltage sags on their AC power line, making it suitable for industrial applications and semiconductors equipment.
Input voltage ranges from 170 to 264V AC. The FETA3000BA-48 delivers an output of 48V DC, adjustable from 38.4 to 52.8V DC using the built-in potentiometer, or 15 to 52.8V DC when using the trimming function at the rear connector. The nominal output current is 62A and efficiency is up to 93% at 230V AC input, confirms the company.
The microprocessor based voltage and current balance control is claimed to simplify system integration when connecting units in parallel or series and allows the connection of up to 10 units in parallel, without adding any other external components. The advanced digital control also controls switching parameters to optimise efficiency and reduce energy consumption.
To reduce audible noise, the series is equipped with a thermo-regulated fan with speed automatically adjusted for specific environments.
The FETA3000BA series operates at -10 to 70°C, 20 to 90%RH (non condensing), and up to 3,000m (10,000 feet) altitude. Depending on cooling and assembling method, a power derating may apply.
It also includes an input filter and complies with FCC Part 15-A, CISPR32-A, EN55032-A, VCCI-A. In cases where a higher conducted noise attenuation is required, an NAC-20-472 filter is recommended.
The power supply is UL62368-1, C-UL (CSA62368-1), EN62368-1 safety approved, and complies with the RoHS directive and is CE marked in accordance with the Low Voltage Directive. Dimensions are 102 x 41 x 340mm (4.02 x 1.61 x 13.39 inches) and weight is 2.3kg (maximum).
Target applications include measurement and analysis equipment, machine tools, and semiconductor manufacturing equipment.
View PDF