Features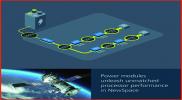 NewSpace demands low voltage, high current power for performance and longevity - Nov 2022
Matt Renola, Senior Director, Global Business Development – Aerospace & Defense
More details...
Power Electronics Europe News
Compact intelligent power modules target BLDC motor drives
For high efficiency, rugged motor drive design, the intelligent power module is intended for low power brushless drive DC (BLDC) motor drives system such as fan motors in home appliances and air conditioners.
The IPM7 series has a three-phase super junction MOSFET topology designed for motor drive and a high voltage gate driving IC with an integrated bootstrap circuit. It is supplied in a compact surface mountable package. The input range if 3.0 to 18V.
Control supply under-voltage lockout protection, integrated over-temperature protection and monitoring functions are included.
BLDC-based inverters are commonly used in fan motors for their quick, quiet and energy efficient operation compared with DC motors or AC induction motors with on/off control. According to the company, the IPM7 will reduce the inverter board size and facilitate easy and reliable PCB assembly. It can quickly detect fault temperature to support reliable fan motor drive design and operation, adds the company.
The AIM702H50B is immediately available in production quantities with a lead-time of 12 to 14 weeks.
View PDF