Features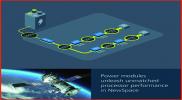 NewSpace demands low voltage, high current power for performance and longevity - Nov 2022
Matt Renola, Senior Director, Global Business Development – Aerospace & Defense
More details...
Power Electronics Europe News
Relec expands its rail power module portfolio
Premium's CBS-10K DC/DC converter series is now available from Relec Electronics. The compact converters feature galvanic isolation between input and output, operating at fixed switching frequency.
The CBS-10K series is designed to meet EN50155 for railway applications and is designed to rolling stock standards. At start-up, it supplies the rectifier in order for it to operate as an inverter. It allows hybrid diesel-electric trains to operate at low speeds when overhead electrical wires are not available.
Single output DC/DC converters in the series have has multiple I/O combinations to meet industrial and rail applications which require high power conversion. The converters provide up to 6kW average power and peak power up to 10kW for 40s to protect against overload and short circuits.
They also provide 500V DC output and up to 700V DC is available on request. The DC/DC converters are designed using SiC technology to increase power density.
Input options are 24, 48, 72 and 110V DC. All models can be operated in parallel. The high I/O isolation is 5,000Vrms and the design includes an ORing diode at the output to decouple it from lines up to 2kV.
Other features include opto-coupled remote off and an isolated relay contact alarm. Efficiency is up to 95% and MTBF is 200,000 hours (according to IEC61709, SN29500 at 40°C).
A remote control function is available via RS232, with an optional CAN bus.
The series is also approved to EN45545-2 (fire and smoke). The railway-standard module is covered by the manufacturer's five year warranty and the industrial module has a three year warranty.
View PDF