Features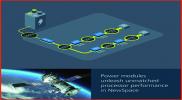 NewSpace demands low voltage, high current power for performance and longevity - Nov 2022
Matt Renola, Senior Director, Global Business Development – Aerospace & Defense
More details...
Power Electronics Europe News
20V and 30V MOSFETs in what is claimed to be the world's smallest DFN package, the DFN0603, are available from Nexperia. They join the company's ESD
protection devices in this package.

They are designed for use in wearable and hearable devices which incorporate artificial intelligence (AI) and machine learning (ML). These features present board space and heat dissipation challenges for designers. Board space is at a premium as functionality is added, and heat dissipation rises as power consumption increases.
The low profile DFN0603 package measures 0.63 x 0.33 x 0.25mm, and uses 13% less space than MOSFETs in the next smallest package (DFN0604). Despite the size reduction, RDS(on) has also been reduced by 74%, to improve efficiency which is particularly important in wearable equipment where designers need to achieve even greater power density.
The series consists of the PMX100UN 20V, N-channel trench MOSFET, the PMX100UNE 20V, N-channel trench MOSFET with 2kV ESD protection (HBM or human body model), the PMX300UNE 30V, N-channel trench MOSFET and the PMX400UP 20V, P-channel trench MOSFET.
Nexperia has plans to add two more MOSFETs later this year.
Samples are available now.
View PDF