Features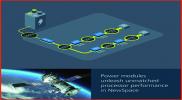 NewSpace demands low voltage, high current power for performance and longevity - Nov 2022
Matt Renola, Senior Director, Global Business Development – Aerospace & Defense
More details...
Power Electronics Europe News
Reuters Events announces Energy Transition Europe 2022
The summit will tackle key energy transition challenges from the board, says Reuters Events.
The rapid energy transition poses existential challenges to our energy generation, transmission, and delivery systems which affect all sectors of business. Additionally, the structure of the European grid of the future continues to shift in the face of geopolitical tension, EU climate commitments and advancing clean technology.
Executive collaboration across government, energy and corporate business is essential to deliver secure, sustainable energy across Europe and Energy Transition Europe 2022 will facilitate this co-operation, says Reuters Events.
From 15-16 November, Energy Transition Europe will seek to uncover emerging strategies, innovative technologies and investment outlooks that are driving energy transition leadership across Europe.
"The energy transition continues to accelerate at pace in the European market, but are we going far enough? How effectively are major European organisations converting ambitious climate rhetoric into action?" asks Luke Brett, project director of Energy Transition Europe at Reuters Events. "These are key questions in the defining challenge of our time, and face-to-face collaborative summits such as this are one step in a long journey towards building true carbon-neutral energy systems."
Executives in attendance include Repsol's CEO, Josu Jon Imaz, Simone Rossi, CEO of EDF, Christina Verchere, CEO of Petrom and Greg Jackson, CEO of Octopus Energy.
The summit will explore a wide range of key verticals, including driving boardroom action, EU market governance, growing energy security concerns, pathways to the green grid of the future, and unlocking deep decarbonisation in hard-to-abate sectors.
Reflecting on previous Energy Transition events, Brett said: "Over the last two years, we've examined game-changing technology, analysed thought-provoking sustainability strategies and questioned the energy status quo. This year, as we return to in-person events, the emphasis is on practicality."
"Europe – and the rest of the world – can't wait for platitudes, can't stem the destructive tide of climate change without significant, meaningful, and heartfelt action from the very top of these market leading organisations. Systemic and structural change is on the cards. Will European players rise to the occasion?"
To learn more about, or to take part in Energy Transition Europe 2022 visit the official website.
View PDF