Features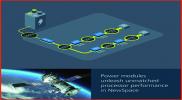 NewSpace demands low voltage, high current power for performance and longevity - Nov 2022
Matt Renola, Senior Director, Global Business Development – Aerospace & Defense
More details...
Power Electronics Europe News
EPC Space adds 100V and 200V rad-hard GaN transistors to its offering
The 100V EPC7018G has an RDS(on) figure of 6mΩ and the 200V EPC7007B has 28mΩ RDS(on). Both have a low gate charge, says the company, which reduces the cost of high power density solutions, making them more efficient than the nearest comparable radiation-hardened silicon MOSFET.
The two latest additions to the company's rad-hard GaN transistor portfolio are rated to 1,000krad and supplied in hermetic packages. The footprints of the EPC7018G is 8.0 x 5.6mm and for EPC7007B is 5.7 x 3.9mm.
Chip-scale versions of this device are available.
According to EPC Space, power devices based on GaN significantly outperform silicon-based devices, exhibiting higher breakdown strength, lower gate charge, lower switching losses and better thermal conductivity in addtion to lower on resistance. Other characteristics are higher switching frequencies resulting in higher power densities, higher efficiencies and more compact, less weighty circuitry.

View PDF