Features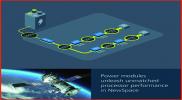 NewSpace demands low voltage, high current power for performance and longevity - Nov 2022
Matt Renola, Senior Director, Global Business Development – Aerospace & Defense
More details...
Power Electronics Europe News
UL-approved 7/8-inch connectors secure power in automation
The 7/8-inch connectors from binder are durable, industrial-grade components for power supplies and protected to IP67/IP68 against the effects of particles and moisture ingress.
The NFPA/T3.5.29 R1-2007 quasi-standard defines a mating face for the 7/8-inch connectors. The unified mating face ensures that connectors from different manufacturers are compatible with one another allowing users to choose from a large number of products. In times of sensitive supply chains, this variety brings a degree of security in procurement.

The industrial circular connectors are suitable for a range of applications, from sensor technology through to bus applications and lighting installations. Designed as three-, four- or five-pin variants, the connectors are offered with screw clamp termination as well as pre-assembled cable connectors with straight or angled cable outlet. The contacts are 2.0mm in diameter.
The connectors which are equipped with screw locking meet the conditions of protection degree IP67 and have UL certification for use in North America. The over-moulded cables meet IP68, adds binder.
Current for the three-pin version is up to 13A with a rated voltage of 300V or 600V according to UL guidelines. As a result, they are suitable for power applications in automation technology, such as process, factory, and warehouse automation. In these environments, they are used to power components in drive or lighting equipment and the electrical connection of heating devices. The power supply of active distribution boxes, also called sensor actuator boxes is another typical application for 7/8-inch connectors to simplify the wiring of complex field installations.
The company offers various ready-to-connect, as well as field-wireable, pre-assembled and over-moulded cables, in straight and angled versions, in different lengths and with stainless-steel cable screw connections for use in corrosive ambient conditions.
In the field-wireable products, there is greater flexibility in the choice of cable materials and lengths. The screw termination inside ensures a cost-efficient, detachable connection. Cables with diameters from 6.0 to 12mm can be connected with possible wire gauges range up to 2.5mm². Gold-plated contacts and stainless-steel variants ensure a long mechanical service life at low contact resistances, especially for use in industrial environments, adds the company.

For installation in device housings users can choose flange connectors with various thread designs. On the termination side, there is a selection of pre-assembled wires in various lengths as well as dip solder contacts for mounting on a printed circuit board.
The binder portfolio also extends to products for the CAN-based DeviceNet fieldbus – including clever additions such as the 870-series T distributors in different pin counts, which are capable of supplying two loads simultaneously from one source.



View PDF