Features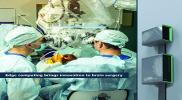 Edge Computing Leverages Modular Power in Scalable Micro Data Centres - May 2022
Edge computing is essential to realizing the full potential of artificial intelligence (AI), machine learning and internet of things (IoT). These technologies are being infused into every corner of...
More details...
Power Electronics Europe News
Current sense resistors from Vishay Intertechnology are automotive-grade
The resistors are 2.0 and 3.0W rated, have resistance from 5.0 to 500mΩ and supplied in 2010 and 2512 packages. The devices can be used in current sensing and pulse applications in power supplies, instruments, power amplifiers, shunts, power inverters, and battery management circuitry.
Designers can use a single high power resistor instead of running multiple resistors in parallel, which can cause current measurement errors, reports the company. The improvement in power density, also saves space on the circuit board to enable smaller, lighter products.
The resistors' construction incorporates an improved thermal management design using a copper heat spreader and which maintains the superior electrical characteristics of the Power Metal Plate construction. A proprietary processing technique enables the wide range of low resistance values with tolerances down to ± 1.0%.
Application areas are automotive electronic controls, brushless DC motor controls, and battery management for electric and hybrid vehicles, high power inverter / converter controls and large motor drives for industrial applications, power supplies for downhole instrumentation, inverter control for consumer appliances and HVAC systems and power management, conversion, and safety in computing applications, such as servers.
The solid metal manganese-copper or nickel-chromium alloy resistive element has a low TCR (< 20ppm/°C), low inductance values of 0.5 to 5.0nH, low thermal EMF to < 3µV/°C, and an operating temperature range of -65 to 170°C. The WFM resistors are RoHS-compliant, halogen-free ad available now in sample and production quantities.
View PDF