Features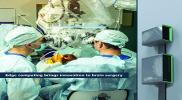 Edge Computing Leverages Modular Power in Scalable Micro Data Centres - May 2022
Edge computing is essential to realizing the full potential of artificial intelligence (AI), machine learning and internet of things (IoT). These technologies are being infused into every corner of...
More details...
Power Electronics Europe News
Reference board protects isolated CAN-transceiver design
The board has all the necessary circuitry to reduce noise and protect the system against excessive voltages, adds Dengrove.
Isolated CAN transceivers need isolated power for signal integrity and reliability, they also require properly designed bus protection. The reference board is ready-to-use and satisfies these requirements for critical component-layout, signal-termination and routing challenges when bringing up a robust transceiver design.
The board contains a TI ISO1042 isolated CAN transceiver, which supports data rates up to 5Mbit/s in CAN-FD mode and 1Mbits/s in CAN Classic. Protection components include TVS diodes and common-mode choke and users can bypass these if desired. A 120Ω line-termination resistor can also be added for optimum CAN-bus performance with 120Ω-impedance twisted-pair cable.
A Recom R1SX-3.305/H isolated surface-mount DC/DC converter provides the single 3.3V rail needed to power the ISO1042. The energy-efficient converter is compact; it measures 10.8 x 12.75 x 5.5mm and is pre-configured with a split termination network. Common-mode capacitance and additional capacitors on the CAN bus are also included.
The converter output powers the CAN-bus side of the transceiver and lights a green LED power-good indicator. The transceiver draws about 80mA and the R1SX-3.305/H can also power additional external loads up to about 120mA, accessed via a connector pin and a test point provided with the board.
View PDF