Features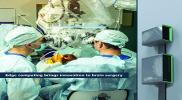 Edge Computing Leverages Modular Power in Scalable Micro Data Centres - May 2022
Edge computing is essential to realizing the full potential of artificial intelligence (AI), machine learning and internet of things (IoT). These technologies are being infused into every corner of...
More details...
Power Electronics Europe News
Littelfuse adds temperature indicators to protect USB Type C cables
T
he digital temperature indicator can be used in consumer electronics, primarily for mobile and wearable devices equipped with USB Type-C cables (with a Type-C plug on each end) and USB Type-C chargers (such as cables fixed to a laptop charger).
Dust, dirt, or other debris trapped in a USB Type-C cable connector, or deformed pins, create a resistive fault from the power line to ground, which can cause a dangerous temperature rise without increasing the current. When the temperature reaches the indicating temperature, the indicator switches from low to very high resistance, shutting down power. Once the user disconnects the cable and removes the debris, the cable can resume normal operation.
The indicator's compact 0805 footprint means they are at least 50% smaller than other versions that require a device to be placed on the power line, yet provides protection for cables of 100W or more.
The temperature indicators have a rigid structure which is compatible with conventional assembly and moulding operations used in cable and connector manufacturing.
The indicator is a drop-in replacement for existing designs.
View PDF