Features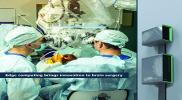 Edge Computing Leverages Modular Power in Scalable Micro Data Centres - May 2022
Edge computing is essential to realizing the full potential of artificial intelligence (AI), machine learning and internet of things (IoT). These technologies are being infused into every corner of...
More details...
Power Electronics Europe News
Isolated DC/DC converters have 4:1 input
The 15W isolated DC/DC converters have wide input ranges but are available in the popular 25 x 25mm (1.0 x1.0-inch) case size. This, says the company, saves a significant amount of PCB space, while the wide input ranges increase flexibility by accepting several standard bus voltages.
The DC/DC converters are specified with 15W, no minimum load, 1600V DC isolation, high efficiency up to 90% and low ripple/noise. They are designed for cost-sensitive applications where board space is at a premium. The wide 4:1 input ranges accept 9 to 36V or 18 to 75V to cover multiple supply options such as lead acid or lithium batteries or 12, 24, 36 or 48V industrial bus voltages. The inputs are protected against transients of up to 100V and feature under-voltage lockout to protect batteries from being over-discharged. Single or dual outputs are continuously protected against short circuit and overload conditions and can drive high-capacitive loads.
The converters are certified to industrial EMC and safety standards and carry a three year warranty. Samples and OEM pricing are available from all authorised distributors or directly from the manufacturer.
View PDF