Features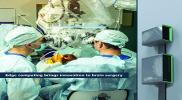 Edge Computing Leverages Modular Power in Scalable Micro Data Centres - May 2022
Edge computing is essential to realizing the full potential of artificial intelligence (AI), machine learning and internet of things (IoT). These technologies are being infused into every corner of...
More details...
Power Electronics Europe News
DC/DC converters save space in miniature SiP
All models provide tightly regulated outputs at 3W of isolated power and are packaged in a miniature system in package (SiP) that takes up a minimum of board space, claims the company.
The DC/DC converters operate from wide 4:1 inputs of 4.5 to 18V DC, 9.0 to 36V DC and 18 to 75V DC, providing single and dual outputs of 3.3, 5.0, 12, 15, ±5.0, ±12 or ±15V DC. Standard features include anI/O isolation of 1,600V DC, ±1% load regulation, continuous short circuit protection and a remote on/off control input.
Reliability screening is performed on all products as a routine part of the production process. The mean time between failure (MTBF) for the series is over 900 khours (per MIL HDBK 217F).
The miniature SiP case measures 0.67 x 0.38 x 0.48-inches (17.0 x 9.45 x 12.2mm). Case materials meet UL94-V0 requirements.
Each model is specified for operation over the industrial temperature range of -40 to 76°C with no heat sinking required. Cooling is by free-air convection.
The DC/DC converters are suitable for board level industrial power applications where performance requirements are high and board space is limited, says the company.
View PDF