Features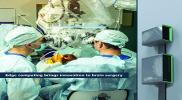 Edge Computing Leverages Modular Power in Scalable Micro Data Centres - May 2022
Edge computing is essential to realizing the full potential of artificial intelligence (AI), machine learning and internet of things (IoT). These technologies are being infused into every corner of...
More details...
Power Electronics Europe News
Navitas signs worldwide agreement with Digi-Key
As a result, GaNFast power ICs will be available 24/7 to accelerate next-generation power electronics, says the company.
The GaNFast power ICs enable power systems to simultaneously achieve MHz frequency and highest efficiency operation, says the company. These characteristics result in smaller, faster, lighter, and lower cost power conversion in mobile fast chargers and adapters, the IoT, TVs, EV/hybrid vehicles and LED lighting.
The NV6113, NV6115 and NV6117 single GaNFast power ICs are 650V-rated and available in a 5.0 x 6.0mm QFN package.
There is a series of videos and technical papers available to introduce GaNFast technology, applications and end-customer examples. Product datasheets and application-specific design kits enable fast implementation for new and upgraded designs.
View PDF