Features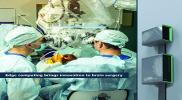 Edge Computing Leverages Modular Power in Scalable Micro Data Centres - May 2022
Edge computing is essential to realizing the full potential of artificial intelligence (AI), machine learning and internet of things (IoT). These technologies are being infused into every corner of...
More details...
Power Electronics Europe News
Signal transformers suit automotive battery monitoring applications
The SM91501AL and SM91502AL are dual- and single-channel isolation transformer modules, respectively. Both devices offering common-mode chokes for noise rejection in battery monitoring system (BMS) applications. They comply with the AEC-Q200 standard for automotive applications, and are also implemented in reference designs with Analog Device's LTC6804-1/6811 and NXP's MC33771/33772 battery monitoring devices.
Electrical characteristics include working voltages of 1600 and 1000V DC for the SM91501AL and SM91502AL, respectively, and a 4300V DC high-potential isolation voltage. They operate at the extended temperature range of -40 to 125°C. There is also support for serial daisy-chain isoSPI communication and the devices comply with the RoHS directive.
The Bourns SM91501AL and SM91502AL are shipping from RS Components in the EMEA and Asia Pacific regions.
View PDF