Features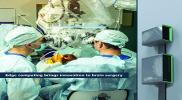 Edge Computing Leverages Modular Power in Scalable Micro Data Centres - May 2022
Edge computing is essential to realizing the full potential of artificial intelligence (AI), machine learning and internet of things (IoT). These technologies are being infused into every corner of...
More details...
Power Electronics Europe News
Bi-directional level shifter targets telecomms and networks
The PI4ULS5V108 is designed for inter-IC communications between devices operating on different voltage supply rails, for example PCs, servers, networking, telecomms and consumer electronics.
It supports up to 100MHz up-translation and greater than 100MHz down-translation at 30pF capacitive load or less. This allows it to support a wide range of PC or consumer interfaces including general purpose I/O (GPIO), management data I/O (MDIO), secure digital I/O (SDIO), Universal Asynchronous Receiver/Transmitter (UART), system management bus (SMBus), power management bus (PMBus), inter-integrated circuit (I2C), and serial peripheral interface (SPI), explains the company. It provides voltage level shifting without direction pin control.
The level shifter operates between 0.9 and 5.0V across eight I/O channels, each of which can be configured with different voltage translation levels. On-resistance is low for minimal signal distortion, reports the company and the wider translation voltage range suits consumer interfaces. Enable and I/O pins are ESD-protected to 8kV HBM (human body model) and 1kV CDM (charge device model).
The 8-bit PI4ULS5V108 is available in the 20-pin TSSOP, or 20-pin VQFN 2.5 x 4.5mm packages.
View PDF