Features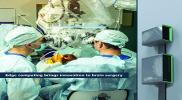 Edge Computing Leverages Modular Power in Scalable Micro Data Centres - May 2022
Edge computing is essential to realizing the full potential of artificial intelligence (AI), machine learning and internet of things (IoT). These technologies are being infused into every corner of...
More details...
Power Electronics Europe News
Laser driver uses GaN technology to improve Lidar
Osram Opto Semiconductors and GaN Systems have developed a high power, multi-channel surface mount laser for Lidar (Light detection and ranging) systems.
One of the challenges around Lidar technology is its inability to transmit lasers at short pulses, while maintaining high peak power. This balance is needed to ensure that the Lidar has a long range and high resolution and is 'eye-safe'. The two companies have developed a laser driver with a 1ns pulse rise time, and capable of driving all four channels at 40A each to deliver 480W peak power.
"Operating at the elevated current levels and nanosecond rise times necessary for long-distance Lidar requires the high power, high frequency and robust thermal performance," said Jim Witham, CEO of GaN Systems.
Scanning Lidar is used in advanced driver assistance systems (ADAS). It creates high-resolution 3D images of a car's surroundings and registers obstacles early enough for ADAS (or self-driving cars) to initiate the appropriate avoidance driving procedures.
Osram also plans to release a four-channel surface mount laser in 2019. The additional channels increase the field of view and total peak power, with each channel being capable of generating 120W.
View PDF