Features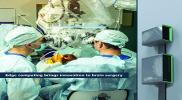 Edge Computing Leverages Modular Power in Scalable Micro Data Centres - May 2022
Edge computing is essential to realizing the full potential of artificial intelligence (AI), machine learning and internet of things (IoT). These technologies are being infused into every corner of...
More details...
Power Electronics Europe News
Hybrid modules protect consumer electronics from ESD-generating events
The SP1333-01UTG is the first TVS diode array in the SP1333 series. It is designed to protect consumer and wearable electronics from damaging ESD-generating events. It has a breakdown voltage 3.3V and incorporates back-to-back diodes fabricated using a proprietary silicon avalanche technology. This back-to-back configuration provides symmetrical data line protection from ESDs up to ±30kV, safely absorbing repetitive ESD strikes without performance degradation, claims the company. Low clamping voltages allow the diode arrays to tolerate surges above 5A, to extend a product's operating life.

Typical applications include smartphones, portable medical devices, MP3/PMP devices, portable navigation devices, small panels, tablets and point of sale terminals.
The modules are available in compact 0201 packages.
The diode arrays have a low capacitance of 10pF per I/O, to help preserve signal integrity and minimise data losses. The low parasitic leakage of less than 50nA is optimised to extend operating life. The combination of high surge tolerance.
The TVS diode arrays are available in a surface mount 0201DFN package in tape & reel format. Sample requests may be placed through authorised distributors.
View PDF