Features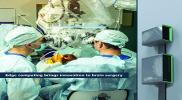 Edge Computing Leverages Modular Power in Scalable Micro Data Centres - May 2022
Edge computing is essential to realizing the full potential of artificial intelligence (AI), machine learning and internet of things (IoT). These technologies are being infused into every corner of...
More details...
Power Electronics Europe News
Surface mount DC/DCs are certified to 62368-1
The Recom R1DX dual-output,isolated DC/DC converters are available from Dengrove Electronics Components
The open-frame, surface-mount power modules offer a choice of ±5.0, ±9.0, ±12 or ±15V bipolar outputs.
They are compact, measuring just 15.2 x 10.7mm and 8.0mm high. They are capable of driving capacitive loads of up to 1000µF, for applications such as RS-232 bus isolation, and for providing bipolar power to isolated DACs, sensors, op-amps, and general industrial automation, control, and test and measurement equipment.
They are energy-efficient and easy to design-in, claims Dengrove. With no minimum-load requirement, the converters consume less than 150mW quiescent power and operate over a temperature range of -40 to 100°C at full load without derating.
The modules are certified in accordance with the latest safety standard, IEC/UL/EN 62368-1, as well as the one it will supersede, 60950-1. This helps OEMs transition products to the new standard. Built-in isolation is rated at 1kVDC/1s, and the alternative /H version provides even higher isolation of 3kVDC/1s.
For EMC compliance, adding only an input capacitor satisfies Class A requirements or a simple low-cost LC filter for Class-B equipment.
View PDF