Features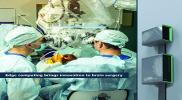 Edge Computing Leverages Modular Power in Scalable Micro Data Centres - May 2022
Edge computing is essential to realizing the full potential of artificial intelligence (AI), machine learning and internet of things (IoT). These technologies are being infused into every corner of...
More details...
Power Electronics Europe News
Automotive step-down DC/DC converters save space
The series of HiSAT-COT control, a proprietary high speed transient response technology, and 1.5A coil-integrated step-down micro DC/DC converters have integrated coils and control ICs. According to the company, adding two ceramic capacitors to external components can create a power supply circuit with a maximum of 1.5A, and a 50% or more reduction in space compared to structures using stand-alone DC/DC converters. The coil is integral, meaning that board layouts can be simplified to minimise malfunctions, noise, and other problems arising from component placement or wire routing, adds the company.
The input voltage ranges from 2.5 to 5.5V and the output voltage from 0.8 to 3.6V (standard voltage settings exist), with a switching frequency of 3.0MHz and a circuit system which employs synchronous rectification.
The operating mode uses HiSAT-COT control characterised by its transient response and which allows either PWM control or PWM/PFM automatic switching control to be selected depending on the application. PWM control suppresses output ripple voltage to a low level, while PWM/PFM automatic switching control achieves high efficiency over all load ranges.
The XDL601/XDL602 series complies with AEC-Q100 Grade 2, at an operating temperature range of -40 to 105°C. The converters are supplies in a compact DFN3625-11A package, measuring 3.6 x 2.5 x 1.6mm. The package uses a wettable flank structure with fillets at the sides of the terminal, allowing automatic visual inspections of solder joints.
View PDF