Features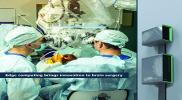 Edge Computing Leverages Modular Power in Scalable Micro Data Centres - May 2022
Edge computing is essential to realizing the full potential of artificial intelligence (AI), machine learning and internet of things (IoT). These technologies are being infused into every corner of...
More details...
Power Electronics Europe News
Medical DC/DC converters provide 2 x MOPP
The REM15-W (15W), REM20-W (20W) and REM30-W (30W) medical DC/DC converters provide 2 x MOPP (means of patient protection) and can be easily integrated in medical designs due to their compact case size and full medical certifications, says the company.
The three DC/DC converters offer well balanced specifications for critical medical applications including a 60601-1 3rd Edition certification. They feature 5kV AC reinforced isolation rated at 250V AC working voltage, 8mm creepage and clearance and low 2µA leakage currents, despite the compact case sizes of only 40.6 x 25.4mm and 50.8 x 25.4mm (1.6 x 1 inch and 2 x 1 inch). At the same time they guarantee far-reaching compatibility with their extra-wide 4:1 input voltage range. Efficiency of up to 90% means they can operate reliably in harsh environments at extreme temperatures from -40 to 105°C at natural convection.
Single output options range from 5.0 up to 24V and dual outputs offer either 5.0, 12 or 15V with low output ripple and zero-load operation.
The company provides a five-year warranty for the modules.
Samples are available from all authorised distributors or directly from the company.
View PDF