Features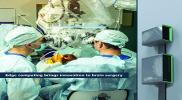 Edge Computing Leverages Modular Power in Scalable Micro Data Centres - May 2022
Edge computing is essential to realizing the full potential of artificial intelligence (AI), machine learning and internet of things (IoT). These technologies are being infused into every corner of...
More details...
Power Electronics Europe News
The two isolated controller area network (CAN) flexible data rate (FD) transceivers are also claimed to have the highest common-mode transient immunity (CMTI) in package that is 35% smaller than earlier transceivers from the company.
It is also claimed to have a higher working voltage than competing devices and faster communication speeds than the classic CAN standard, to protect low-voltage circuits and increase communication throughput in industrial applications such as grid infrastructure, motor drives and building automation, as well as hybrid electric vehicles and electric vehicles (HEVs/EVs).
They have a working voltage of 1,000V rms and a withstand voltage of 5,000V rms, resulting in improved system reliability.
Bus fault protection is ±70V, which provides a 20% higher short-to-DC margin to protect 12-, 24- and 48V battery or power-supply systems during high-voltage shorts.


The transceivers have a CMTI of 85kV/µs (minimum) with high ESD protection of ±8 kV, using the IEC testing standard to maintain operation in noisy environments.


They are also claimed to deliver the industry's lowest electromagnetic compatibility (EMC) emissions, thereby maintaining system signal integrity. The ISO1042-Q1 meets the automotive industry standard (IEC TS62228) for robust EMC.


To drive signals faster in CAN-based systems, the transceivers support CAN FD speeds up to 5Mbit/s with a short loop delay of 215ns (maximum), enabling faster payload compared to classic CAN.
The transceivers are available in either a 10.3 x 7.5mm, 16-pin or a 5.8 x 7.5mm, eight-pin small-outline integrated (SOIC) package.
Evaluation boards, the ISO1042DWEVM and ISO1042DWVEVM evaluation modules are also available.
View PDF