Features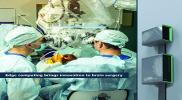 Edge Computing Leverages Modular Power in Scalable Micro Data Centres - May 2022
Edge computing is essential to realizing the full potential of artificial intelligence (AI), machine learning and internet of things (IoT). These technologies are being infused into every corner of...
More details...
Power Electronics Europe News
The supplies are designed for space-constrained applications that need great light-load efficiency and low standby power, such as industrial controls, the IoT infrastructure, smart building devices, and household appliances.
The range comprises 5.0, 10, 15 and 20W models. Built-in filters bring them well within EMC Class B limits with no additional external components required, says the company.
The 5W single-output RAC05-K measures just 25 x 25mm or 1.0 x 1.0 inch, and offers optional standard output voltages of 3.3, 5.0, 12, 15 or 24V. With low no-load consumption of 75mW, and high light-load efficiency, the RAC05-K series can power always-on devices that have short periods of peak activity, such as control equipment, IoT gateways, or wireless sensors.
The 50 x 25mm, or 2.0 x 1.0 inch RAC10-K is available in either single-output or dual-output versions, giving the additional choice of ±12 or ±15V.
The RAC15-K and RAC20-K feature an advanced design with up to 20W of output capability within the same 50 x 25mm / 2.0 x 1.0 inch footprint. They are available now with 5V DC output, and with a full range of single DC outputs up to 48V and ±12 or ±15V dual outputs.
Hold-up time is a lengthy 60ms for the RAC-05 models, and 90ms for the higher-power versions, to ensure a stable supply for sensitive equipment even when the AC-input power quality is poor, say the company.
The modules are through-hole mounted, consuming minimal board real-estate. A wired option for the 20W series gives the added flexibility of off-board positioning. The universal 85 to 305V AC input allows use anywhere in the world. Conformity with the IECEE CB Scheme ensures acceptance by national certification bodies of major markets worldwide.
All models are EU ErP-compliant, and the 15W and 20W versions are optimised for low standby power meeting the EU's ENER Lot 6 eco-design rules for air-conditioning and ventilation systems. No-load consumption of just 40mW (typical) makes them well-suited to many other industrial or home-electricals applications.
The supplies are fully certified to the latest UL/IEC/EN62368-1 safety standard, as well as the outgoing UL/IEC/EN60950-1, which helps designers manage the transition period before 60950-1 is withdrawn.
All outputs are fully protected including over-voltage protection and short-circuit protection with hiccup mode and auto-recovery/restart. All modules comply with reinforced insulation specifications and, with 3kV input-to-output isolation voltage – up to 4kV in the 10 to 20W models - satisfy safety specifications for industrial, AV, ITE, and domestic products.
View PDF