Features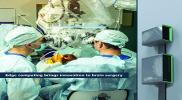 Edge Computing Leverages Modular Power in Scalable Micro Data Centres - May 2022
Edge computing is essential to realizing the full potential of artificial intelligence (AI), machine learning and internet of things (IoT). These technologies are being infused into every corner of...
More details...
Power Electronics Europe News
SiC FETs accelerate switching speeds
The UF3C FAST series of 650 and 1200V SiC FETs are in a standard TO-247-3L package and designed as a drop-in replacement for most TO-247-3L IGBT, Si-MOSFET and SiC-MOSFET parts.
System upgrades do not require changes to the existing gate drive circuitry, says the company. Turn-on losses can be reduced, based on a 50% reduction in Qrr. For high current use, a small, low-cost RC snubber is required, which also simplifies EMI design.
Target applications include hard switched circuits, such as active rectifiers and totem-pole PFC stages, commonly used in electric vehicle (EV) charging, telecomms rectifiers and server supplies.
The FETs are built on the company's Gen-3 SiC transistor technology, and integrate a faster SiC JFET with a custom-designed Si-MOSFET to combine normally-off operation, a high-performance body diode and easy gate drive of the MOSFET.
Compared with other wide band-gap technologies, the SiC cascode devices support standard 12V gate drive, and have assured avalanche ratings (100% production-tested).
The range comprises the UF3C120040K3S (1200V /35mΩ), UF3C065030K3S (650V / 30mΩ) and UF3C065040K3S (650V / 42mΩ).
View PDF