Features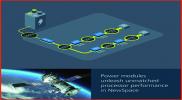 NewSpace demands low voltage, high current power for performance and longevity - Nov 2022
Matt Renola, Senior Director, Global Business Development – Aerospace & Defense
More details...
Power Electronics Europe News
Inductive wireless charging ICs are configurable
The WLC115 transmitter controller IC for wireless charging has a Qi v1.3.2 certified MP A11 power transmitter reference design and can be used in applications such as smartphones, smart speakers, docking stations, monitor stands, as well as industrial or healthcare accessories.
The integrated, Qi-compliant and configurable 15W transmitter controller IC includes a USB-PD/PPS sink, a DC/DC controller, gate drivers for DC/DC, a full bridge inverter, sensing peripherals and configurable flash memory. The WLC1115 supports an input voltage from 4.5 to 24V, together with multi-path voltage- and current-based ASK (amplitude shift keying) demodulation. It also has an integrated, programmable, high side, current sense amplifier and adaptive foreign object detection (FOD) via Q-factor, resonant frequency and power loss. Its protection features – undervoltage lockout, over-voltage protection, over-current protection and over-temperature protection are all programmable.
The WLC1115-based extended power profile (EPP) transmitter uses Infineon's Optiga Trust Charge to meet the authentication requirements specified in the Qi v1.3.2 standard. The IC can be combined with Infineon's USB-C chargers and MOSFETs to meet regulatory and compliance requirements. The IC is also accompanied by software tools that support Qi v1.3.2 and proprietary charging protocols.
The Infineon WLC1115 transmitter controller IC and reference design are available now.
View PDF