Features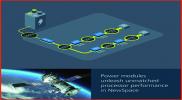 NewSpace demands low voltage, high current power for performance and longevity - Nov 2022
Matt Renola, Senior Director, Global Business Development – Aerospace & Defense
More details...
Power Electronics Europe News
EPC claims EPC2066 is smallest 40V, 1.1mΩ FET in the world
The 40V, 1.1mΩ EPC2066 GaN FET is "significantly smaller and more efficient device than silicon MOSFETs" for high-performance applications where available space is limited, says the company.
The FET has low loss performance which, combined with its small size, make it suitable as a switch for the secondary side of high power density (40 to 60V to 12V) DC/DC converters for the servers and artificial intelligence (AI). It is also suitable for the secondary side synchronous rectification to 12V in power supply and silver box data centre servers, and for high density motor drive applications (i.e. from 24 to 32V), says the company. Other characteristics are high frequency operation and high efficiency in a small footprint of 13.9mm2.
The EPC2066 is footprint-compatible with the company's earlier (Generation 4) device, the EPC2024 and improves area x RDS(on) with a 27% reduction in on-resistance in the same area.
"The EPC2066 is significantly smaller than any other FET in the market at this on resistance", comments Alex Lidow, EPC's co-founder and CEO. It is also a complementary part to the EPC2071 for LLC DC/DC for high power density computing applications, he adds.
EPC also offers the EPC9174 reference design board which features the EPC2071 for the primary side full bridge and the EPC2066 on the secondary side. The 1.2kW, 48V input to 12V output LLC converter enables 1.0MHz switching frequency and 1.2kW of power in a small format, measuring just 22.9 x 58.4 x 10mm and a power density 1472W/in3. The peak efficiency is 97.3% at 550W and the full load efficiency of 96.3% at 12V, delivering 100 A output.
The EPC2066 eGaN FET and EPC9174 development board are available for immediate delivery from Digi-Key. EPC also offers the GaN Power Bench cross-reference tool to find a suggested replacement for silicon MOSFETs based on a project's operating conditions.
View PDF