Features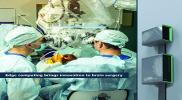 Edge Computing Leverages Modular Power in Scalable Micro Data Centres - May 2022
Edge computing is essential to realizing the full potential of artificial intelligence (AI), machine learning and internet of things (IoT). These technologies are being infused into every corner of...
More details...
Power Electronics Europe News
Transmitter is approved for power-over-distance wireless charging
The company will exhibit its FCC-approved (Part 15, FCC ID: YESTX91503) and ISED-approved (Canada IC: 8985A-TX91503) 3.0W PowerSpot transmitter which operates at up to 24m for over-the-air charging of multiple devices. No charging mats or direct line of sight are needed to charge the devices, adds the company.
The transmitter is, claims the company, the industry's first long-range, far-field, power-over-distance wireless recharging transmitter for consumer devices to gain FCC and ISED approval. It uses the 915MHz ISM band to send RF energy to a tiny Powercast receiver chip embedded in a device, which converts it to direct current to power or recharge the device's batteries.
In addition to the standalone charger, the company will offers a PowerSpot sub-assembly that consumer goods manufacturers can integrate into their products. The company envisions lamps, appliances, set-top boxes, gaming systems, computer monitors, furniture or vehicle dashboards able to charge multiple enabled devices around them.
"Others might be talking RF power possibilities, but we have consistently delivered far-field wireless power solutions that work, safely and responsibly, under FCC and other global standards providing power up to 80 feet [24m]," said Powercast's COO/CTO Charles Greene, Ph.D.
Up to 30 devices left in the zone on a countertop or desktop overnight can charge by morning, sharing the transmitter's 3.0W power output. Charging rates will vary with distance, type and power consumption of a device. Power-hungry, often used devices like game controllers, smart watches, fitness bands, hearing aids, ear buds, or headphones charge best up to 0.6m, keyboards and mice up to 1.8m away, TV remotes and smart cards up to 3.0m away and low-power devices like home automation sensors (window breakage, temperature) up to 24.3m away. An illuminated LED indicates devices are charging. Audible alerts indicate when devices move in and out of the charge zone.
The PowerSpot transmitter uses direct sequence spread spectrum (DSSS) modulation for power and amplitude shift keying (ASK) modulation for data, and includes an integrated 6dBi directional antenna with a 70° beam pattern.
View PDF