Features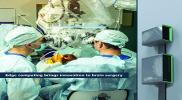 Edge Computing Leverages Modular Power in Scalable Micro Data Centres - May 2022
Edge computing is essential to realizing the full potential of artificial intelligence (AI), machine learning and internet of things (IoT). These technologies are being infused into every corner of...
More details...
Power Electronics Europe News
Reference design supports GaN in Class-D audio
Class-D audio systems with GaN technology provide better sound quality and are smaller and lighter, says the company, and predicts an exponential growth of GaN in the Class-D audio market. It also believes 2022 will mark a year when the biggest audio names will launch GaN audio products.
Its GeN2 amplifier and companion power supply reference design is optimised for sound quality, thermal performance, size and cost.
The evaluation kit includes a two- channel, 200W per channel (8Ω) Class-D audio amplifier with 96% efficiency and companion 400W continuous, 550W peak power audio-grade SMPS (switch mode power supply).
The GeN2 reference design features a 20% overall size reduction in the power supply, compared with the earlier model. It also has a higher level of protection into lower impedance loads to the amplifier and improved thermal management results in 10°C temperature reduction. As well as improving time to market, the reference design also lowers bill of materials (BoM) cost for audio systems, says the company.
The reference design allows design engineers to develop a heatsink-less, self-powered (from AC line Input) design which does not require external DC supplies. The design also requires smaller boards because of controller and DSP integration levels.
The reference design offers high efficiency across a wide load range using GaN transistors and advanced control techniques. Designers can quickly scale to a higher power with magnetics and GaN transistor selection.
There are also resources for multi-audio signal inputs, bridge-tied load output, and open-loop/closed-loop toggling.
View PDF