Features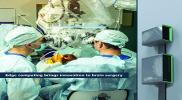 Edge Computing Leverages Modular Power in Scalable Micro Data Centres - May 2022
Edge computing is essential to realizing the full potential of artificial intelligence (AI), machine learning and internet of things (IoT). These technologies are being infused into every corner of...
More details...
Power Electronics Europe News
Demo boards evaluate rad-hard GaN devices
The boards help designers quickly implement rad-hard GaN power devices into high reliability and aerospace applications. The demonstration boards offer fast prototyping and evaluation of the features and capabilities of EPC Space rad hard eGaN power devices. The range includes three low-side driver demo boards, the EPC7C001, EPC7C002 and EPC7C003, which use company's eGaN gate driver modules to drive a corresponding 40, 100 or 200V discrete eGaN FET. There is also the EPC7C005 demonstration board that allows evaluation of the switching operation and conversion efficiency performance of the FBS-GAM02-P-C50 rad-hard power module connected as a half-bridge point of load (PoL) output stage. The third element is the EPC7C006 demo board. This three-phase motor demonstration board uses the FBS-GAM02-P-R50 module.
"Radiation Hardened eGaN FETs and ICs offer designers improved performance, lower cost, and shorter delivery times compared to RH silicon-based devices, said Bel Lazar, CEO of EPC Space. He describes the evaluation platform as easy to use and which designers can use when looking to convert rad-hard silicon designs to GaN.
According to EPC Space, rad-hard GaN-based power devices address critical spaceborne environments for applications including power supplies, light detection and ranging (lidar), motor drive, and ion thrusters.
View PDF