Features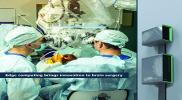 Edge Computing Leverages Modular Power in Scalable Micro Data Centres - May 2022
Edge computing is essential to realizing the full potential of artificial intelligence (AI), machine learning and internet of things (IoT). These technologies are being infused into every corner of...
More details...
Power Electronics Europe News
Wireless charging gets slimmer
Compact wireless charger modules combine the BP3621 transmitter and the BP3622 receiver and have an integrated antenna board. The modules allow developers to add wireless power supply functionality to smaller devices, as well as integrated into smartphones, smart watches and other compact devices. Wireless power technology in devices can eliminate the need for terminal contacts to improve water and dust resistance. Existing low frequency standards for power transmission, coupled with restrictive antenna designs, limit the degree of miniaturisation that can be achieved, while power transmission efficiency can vary according to the antenna shape, size and distance. These factors also mean prototyping, adjustment and evaluation on the system has to be repeated, extending the development cycle.
The 13.56MHz wireless charging modules allow users to add wireless power functionality to thin and compact devices. The BP3621 and BP3622 each measure between 20mm² to 30mm².
The transmitter and receiver incorporate an optimised antenna (coil) layout to configure a compact wireless charging system using the 13.56MHz frequency band to deliver up to 200mW. The flat-back board is designed to easily mount in thin, compact devices. The built-in antenna supports bi-directional data communication and NFC Forum Type 3 Tag operation for a wide range of application options.
The BP3621 transmitter and BP3622 receiver are available for purchase through online distributors Digi-Key, Mouser and Farnell for use in smart tags, smart cards and ID cards, computer mice, remote controls and other PC peripherals as well as portable healthcare equipment.
View PDF